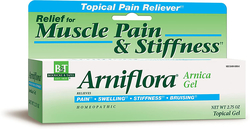 Arniflora Arnica Gel, 2.75 oz (78 g) Tube
List Price:
ISK kr 1,751.82
Our Price:
ISK kr 1,284.32
(27% Off)
- Natural Homeopathic Arniflora Arnica Topical Gel
- Relieves Pain, Swelling, Stiffness, and Bruising**
- Non-Greasy & Absorbs Quickly
Arniflora® Arnica Gel is a modern, homeopathic preparation containing an 8% tincture of Arnica montana. A member of the Compositae plant family and similar to a daisy, Arnica grows in mountainous regions in the Pacific Northwest, central Europe, Russia and Siberia. Arnica tincture is made from the entire plant: stems, root, leaves and flowers.